Who We Are
Eco Roofing Products Ltd is an Irish company based in Rathcoole, Dublin 22. We also have a distribution facility in the midlands and manufacture some products in Portlaoise, Co Laois. Our waterproofing systems are covered by insurance backed guarantees and are manufactured to the highest standards.
The directors of Eco Roofing Products Ltd have expertise and experience built up over more than 25 years at the forefront of the Irish construction industry. We have worked on many different types of flat roofing projects ranging from Dublin Airport to UCD, from Microsoft to major school projects.
What We Do
We specialise in high performance flat roof waterproofing systems for new buildings, refurbishments and building upgrades. We provide a hands on approach to each product ensuring all details comply with good practice guides & that all building regulations are adhered to. We make sure that you get it right first time.
Our high performance membranes are sold as part of a complete waterproofing system & are covered by insurance backed guarantees. They are installed as per current building regulations & are checked on site to ensure conformance & compliance.
Our Eco Ethos
At Eco Roofing Products, we believe in the environment, we believe in sustainability and we believe in the future health of the planet. We offer high performance materials which are produced in an environmentally sympathetic and sustainable process and that use recycled components.
Our major partner is a member of LEED USA & LEED Italy, (the international reference for design, building & management of environmentally friendly high performance buildings) & is committed to eco-sustainability & the use of recycled components
Why choose Eco Roofing Products?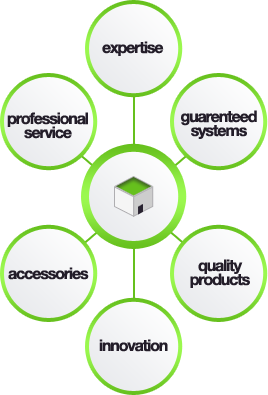 Expertise
We supply all the major roofing membranes and can offer impartial advice and options best suited to your building and environment.
Professional Service
We offer a full design service and will call to site for periodic inspections backed up by written reports of progress, compliance & installation.
Innovation
We have light weight membranes with Reoxthene technology (40% lighter), Easy torch technology which ensures less gas requirement and Non Ageing Technology (NAT) which slows down the ageing process.
Guarenteed Systems
Our systems are fully guaranteed, economical, durable and comply with and out-perform current building regulations.
Accessories
We have a full range of accessories available from repair products, solar reflective paints to rain water outlets and gas torches.
Quality Products
Our Polyshield Cap Sheet is a 4.5mm, polyester and glass reinforced, mineral surfaced membrane with an F.AA Fire Rating, BBA Certification, a cold flexibility of -30°C and a fire safe application method.
Contact us now to discuss your requirements
If you would like to speak to us about any of our products or services, get in touch today!